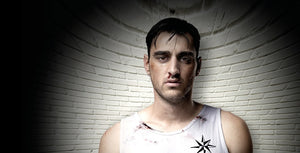 Jailbaby
This wasn't how it was meant to go. 
This event has passed. 
A few iPhones, a huge TV and a Socceroos jersey—shove them all in the IKEA bag then drive away as fast as you can. 
AJ wasn't meant to be spotted at the scene. AJ wasn't meant to get ID'd in the line up. AJ definitely wasn't meant to go to prison. But once AJ is convicted of theft, he is placed behind the walls of an institution where his own body is stolen from him. 
In a cramped communal cell, AJ will become a 'jailbaby'—the ward of a justice system that chooses to turn a blind eye to the life-altering sexual violence committed against young men behind bars.
After an acclaimed performance in 2020's Dogged, Anthony Yangoyan reunites with director Andrea James for this crucial interrogation of Australia's legal system by multi-award-winning playwriting powerhouse Suzie Miller. A spiritual sequel to her international phenomenon Prima Facie, Miller once again opens our eyes to the darkest corners of society and asks us to pinpoint the exact moment when it all goes so, so wrong. 
★★★★★ 'An urgent and compelling work… Run, don't walk.'—Time Out Sydney (for Suzie Miller and Prima Facie)
Content warning: This production of Jailbaby contains a detailed spoken description of rape. The play also contains descriptions of drug use, suicidal ideation, violence, weapons and homophobic slurs. The production contains loud and dynamic sounds.


Find out more about Jailbaby. Presented by Griffin Theatre Company