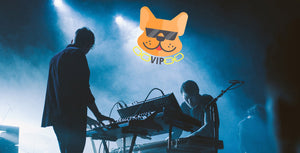 Do you want to be a DJ?
PLAYWAVE EXPERIENCE
LEARN TO DJ! 
This experience has now passed.
Playwave is giving you a unique opportunity to join Joseph O'Farrell (JOF) for an out-of-this world DJing workshop where you will:
Curate playlists
Learn DJ skills
Learn tech operation
Attend an artist info session about putting on live music events, touring and opportunities within the arts and music.
Each participant would need to attend 2 workshops : 9 & 11 January, 4.30-5.30pm.
 HOW TO LOCK DOWN YOUR SPOT
⭐Become a Playwave member
⭐Purchase a Sydney Festival Village Priority Pass. 
⭐Your registration button will appear on this page!
⭐Register here and wait for your instructions! 👉
 EXCLUSIVE TO PLAYWAVE MEMBERS
All workshop participants will be invited to spin that wheel at a unique youth event in early 2018. This is your chance to DJ live! Get on it!