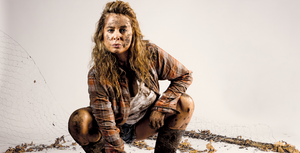 Dogged
The air is freezing. The night is dark. The bush is endless. And there's no certain way home.
On the lands of alpine Victoria, on Gunaikurnai country, a story of familial bonds unfolds.
Faced with the looming foreclosure of her family's property, a farmer's daughter is on the hunt in the rugged Australian bush—on territory that by rights isn't hers to travel through. From deep between the eucalypts, another woman—a mother dingo—searches desperately for her lost pups. She howls into the night, run ragged by hunger and grief.
Over the course of one long night, the Woman and Dingo forge an alliance to claw closer to the things they ache for… but it's a dangerous deal to make.
Witness a total transformation of the SBW Stables stage as you tumble down the dingo's den into a work of sheer Australian Gothic, brought to you by the collaborative collision of playwrights Andrea James (Sunshine Super Girl), AWGIE-winner Catherine Ryan and director Declan Greene (Wake in Fright).
Dogged is a bloody parable painted with electric movement, jaw-dropping design, and a story that stares you straight down the barrel—and trust us, it's quite unlike anything you've seen before.

Presented by Griffin Theatre Company in association with Force Majeure