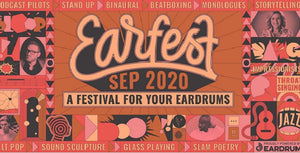 EarFest
LEND AN EAR AS WE CELEBRATE THE WONDERS OF AUDIO IN ALL ITS FORMS
Listen up as Australia's fist audio-only arts showcase, EarFest, launches its inaugural program, including big hitters like 'Don't Tell Me' and 'Painkiller' singer-songwriter Ruel and documentary filmmaker and writer John Safran.
Each day this September, subscribers will receive an original recording of seven minutes or less that has been inspired by the overarching theme 'Pearl'. Running the gamut of rock music, comedy, poetry, performance art and more, it promises to entertain in a multitude of ways. The works were commissioned by EarFest founder Ralph van Dijk of audio advertising agency Eardrum. 
Whether it's a song, story or sketch, slam poetry or binaural beat, we guarantee you the best seat in the theatre of your mind!
Register for EarFest now and each day of September you'll receive an original piece from our selected artists.