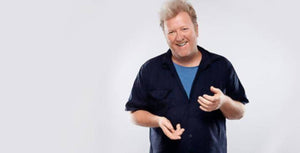 Every Brilliant Thing
A seven year old comes home from school to learn that Mum is in the hospital.
This event has now passed.
Dad says "she's done something stupid." The child begins to create a list for Mum. A list of everything that's brilliant about the world. Everything worth living for.
1. Ice cream
2. Water fights
3. Staying up past your bedtime to watch TV …
Twenty years and thousands of entries later, what began as a naïve attempt to make Mum happy becomes an epic chronicle of life's little wonders. A tribute to the irrepressible resilience inside all of us and the capacity to find delight in the everyday.
A smash-hit with audiences around the world, Every Brilliant Thing is a "funny, clever and surprisingly uplifting" (The Telegraph) one-person play about the lengths we go to for those we love. Produced by theatre companies everywhere, Riverside proudly welcomes the Belvoir production with Steve Rodgers as our narrator.
What the world has said about Every Brilliant Thing:
★★★★★ "Touching, funny and brilliantly simple stripped-back theatre that packs a powerful punch." Limelight
★★★★★ "Engaging and empathetic… one of the best plays of the year." – Now Magazine
★★★★ "Filled to the brim with joy…beautiful, heart wrenching and very funny." Time Out London
★★★★ "Heart-wrenching, hilarious…possibly one of the funniest plays you'll ever see, full stop." The Guardian
"Every Brilliant Thing may be the funniest show about depression you've ever seen… about finding reasons to live rather than reasons to die." New York Post
"Genuinely wonderful and life affirming. It is impossible not to love." A Young Theatre
"Bewitching … about as brilliant as theatre can get." TalkinBroadway.com
Running Time: 80 Minutes
A Belvoir Street Theatre production presented by Riverside Theatres