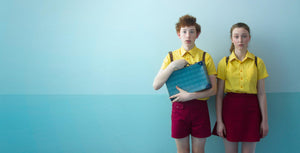 Film Screening: Girl Asleep
Consider your isolation entertainment sorted!
This event has now passed. 
As a little gift to their audience during these trying times, Windmill Theatre Company along with their friends at Umbrella Entertainment and Soft Tread worked together to provide a free screening of Girl Asleep. The film will be available from 6PM Friday 3 April until Midnight on Sunday 5 April. Grab your friends and loved ones, in real life or online, and settle in to watch our first foray into the world of film.
Take a picture and show us your viewing party by using the hashtag #GirlAsleepViewingParty and tagging @WindmillTheatreCo in your posts.
Windmill will posting a direct link here [link: https://www.windmill.org.au/show/girl-asleep/] when it becomes available, or you can sign-up to their mailing list here [link: https://www.windmill.org.au/show/girl-asleep/#enews] to be notified first.
———
ABOUT THE FILM
The world is closing in on Greta Driscoll. On the cusp of turning fifteen she can't bear to leave her childhood, it contains all the things that give her comfort in this incomprehensible new world. She floats in a bubble of loserdom with her only friend Elliott, until her parents throw her a surprise 15th birthday party and she's flung into a parallel place; a world that's weirdly erotic, a little bit violent and thoroughly ludicrous – only there can she find herself.
Based on the critically acclaimed production by Windmill Theatre Co, Girl Asleep is a journey into the absurd, scary and beautiful heart of the teenage mind.
Girl Asleep was produced by Windmill Theatre Company and Soft Tread Enterprises. It was commissioned by Adelaide Film Festival through the Hive Fund, an Adelaide Film Festival initiative with partners ABC Arts, Screen Australia and Australia Council for the Arts. Additional support was provided by South Australian Film Corporation and The Ian Potter Foundation.