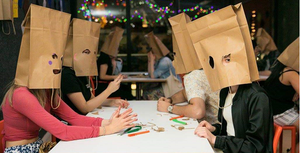 GENEXT: Goes Online
Three hours of art,
 live performances, conversations and more 

at the MCA for 12–18 year olds

This event has passed

Exhibitions, live performances, art-making, conversations and fashion are all part of this new digital experience created by the MCA Youth Committee for 12–18 year olds everywhere (BYO fairy-floss though, sorry team!).

While we're not meeting IRL at the Museum, GENEXT continues to be a proudly inclusive and safe space and we're excited to invite our peers and friends from around the country (and the world!) to join our GENEXT community on 31 May – to connect, participate and create.

Join us as we experiment with new forms of digital communication, art-making, activism, wellbeing and youth-led public programming, inspired by the MCA's exhibition program and these strange, uncertain times we're living through.

#GENEXTGoesOnline

Please note: GENEXT Goes Online is a dedicated youth event. The program will be monitored and moderated by MCA staff to ensure the online safety and wellbeing of all attendees.