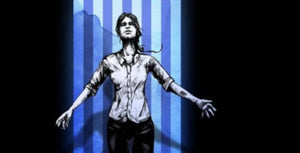 Girl in the Machine
Polly and Owen have nailed it. Both in successful careers and wildly in love, they feel ready to take on the world…
This event has now passed.
A gripping play in the manner of Black Mirror (Netflix), Humans (BBC) and Westworld (HBO), where one can be seduced by the realities of virtual worlds.
A play about love, humanity and being human that plays with our present-day unease about the intrusiveness of technology. This is a brave new world where microchips are embedded into your skin and a seductive virtual reality headset offers an addictive escape which threatens to be lethal.
Stef Smith (Swallow) hooks into several of our contemporary concerns, from centralising control of big data to the blurring of work and home in an always-on digital world and looks at a time when we just might prefer the digital version of ourselves?
Yet humanity, love and the possibility of resistance and redemption are rising up in protest. This is a dystopia where change may be tough, but it's possible.
The Risky Stuff: This production contains coarse language and adult content
Running Time: 75 minutes (No interval plus 20 minute Q&A for daytime performance on 27 June)