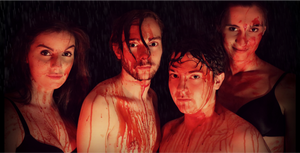 I Hope it's Not Raining in London
Two strangers with no memories, trapped in a room.
This event has now passed.
Six young emerging artists from Newcastle are embarking on an interstate tour (Sydney, Central Coast, Melbourne) of their original play, I Hope it's Not Raining in London- a contemporary, experimental theatre piece which explores identity, our perceived realities and the effects of trauma.
Young emerging artist, Nicholas Thoroughgood, has written a sophisticated play, which places two strangers together in a mysterious room. Neither of them has knowledge of where they are currently existing or who they are. Small boxes appear sporadically- containing objects which trigger memories for them both and gradually their significant moments are remembered and painfully explored.
Running Time: 60 Minutes
The Risky Stuff: The production contains strobe lights, loud noises and mature themes including language, violence, sex, assault and suicide.