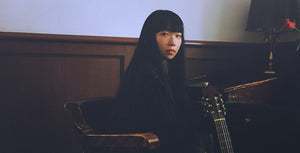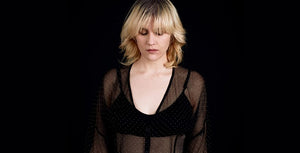 Ichiko Aoba with Laura Jean
Two singular artists known for their strikingly atmospheric music and intimate, powerful lyrics combine in a double bill performing solo and unaccompanied.
This event has passed.
Laura Jean and Ichiko Aoba are two of the most absorbing folk singer-songwriters of our time. Spend an intimate evening of enchantment, absorbed in their incandescent songcraft, solo and unaccompanied, distilled to its hypnotic essence.
Japanese singer and songwriter Ichiko Aoba has steadily attracted listeners in her homeland since she released her first album back in 2010, but it took more than a decade for her gorgeous sounds to start making serious international inroads, notably with Windswept Adan in 2020. Ichiko designed Windswept Adan as the soundtrack to an imaginary film that existed only in her own mind, set on a pair of fictional islands. Ichiko delivers something transcendent, a levitating sound world embroidered with wispy melodies masterfully intoned in a voice that evokes emotions and atmospheres far more elastic and powerful than her hushed delivery initially suggests.
Sydney songwriter Laura Jean is revered for the striking beauty of her music and the strength of her piercing, intimate lyrics. She has been shortlisted twice for the Australian Music Prize, toured with Lorde, Courtney Barnett, Aldous Harding, Jenny Hval and Marlon Williams. Her new album Amateurs was released in 2022; string-laden and sitting somewhere between synth-pop and folk. It's a poignant examination of what it means to be an artist, particularly in Australia, and the thrill of creation.
Find out more about Ichiko Aoba with Laura Jean. Presented by City Recital Hall.