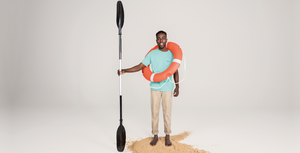 Jali
By Oliver Twist

Jali: noun: a West African historian, storyteller, praise singer, poet, or musician.
Refusing to be defined by a turbulent past, comedian and performer Oliver Twist uses his exceptional storytelling abilities to reflect on his time as a refugee and to unpack what his life looks like now.
In this one-person show that is as delicately told as it is captivating, Oliver uses personal anecdotes, drama and humour as a powerful antidote to trauma.
Originally part of Griffin's 2020 Season, Jali makes a splash in 2021, tapping into feelings of isolation and hopelessness, and transforming them into a story that is clear, resilient and bright.
Jali is a vibrant and emotional journey that patiently proves there is light at the end of the tunnel.
Presented by Griffin Theatre Company