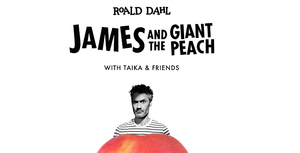 James and the Giant Peach, with Taika and Friends
Join Academy Award-winning filmmaker, Taika Waititi as he reads James and the Giant Peach by Roald Dahl
The Roald Dahl Story Company is bringing cherished children's book, James and the Giant Peach, to life with Taika Waititi and special guests across 10 episodes, to raise money for in support of Partners In Health.
Roald Dahl's story of a boy, a bunch of insects and a giant peach is being read by Taika Waititi and a drop-in cast of pals and peers that includes Liam and Chris Hemsworth, Cate Blanchett, Meryl Streep, Benedict Cumberbatch, Sarah Paulson, Eddie Redmayne, Kumail Nanjiani and Tessa Thompson, among others. 
In Episode 1, Taika is joined by Chris Hemsworth, Liam Hemsworth and Nick Kroll as they start this ever so exciting story and read Chapters 1 – 4 of James and the Giant Peach.
Want to find out what happens next? Head to the Roald Dahl Story Company's Youtube page to watch all the episodes.