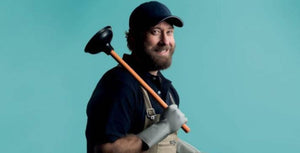 Kenny
Meet Kenny, a fearless Aussie plumber and eternal optimist who looks for the best in every situation – even when his job is literally down the toilet.
When your work can't get any lower your expectations can only soar.
A knight in shining overalls, Kenny is proud of his work, despite his Dad's harsh judgements and the ignorant members of the public who take him for granted. In this classic riff on decency, Kenny's off-beat humour and wide-eyed wonder at life's possibilities are an inspirational reminder that all that glitters is not necessarily gold…
Triumphant and poignant, Clayton and Shane Jacobson's much-loved film has been adapted for the stage by Steve Rodgers, with the hilarious Ben Wood (THE BIG TIME) as Kenny.
Find out more about Ensemble Theatre