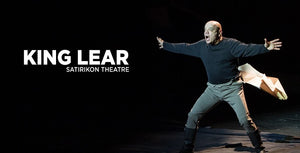 King Lear: Satyricon Theatre
King Lear 
Performed at the Satyricon Theatre
Yury Butusov's brilliant, award-winning staging of KING LEAR tells us a story in which the collapse of a family, the collapse of a country, and the collapse of an individual are all connected to each other.
In Shakespeare's classic work, Lear imagined himself to be God's equal - and so he divided his kingdom between his daughters just to see what would happen. Featuring four time Golden Mask Award-winning actor Konstantin Raikin as Lear.
Director: Yury Butusov
Features: Agrippina Steklova, Anton Kuznecov, Daniil Pugayev, Denis Sukhanov, Konstantin Raikin, Konstantin Tretyakov, Marina Drovosekova, Maryana Spivak, Timofey Tribuntcev, Vladimir Bolshov, Yakov Lomkin
Watch the special with your public library card or university login here.
Presented by Red Torch Theatre and Kanopy