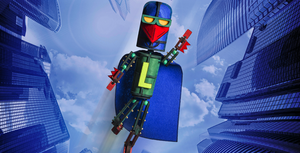 Sydney Festival Presents: Laser Beak Man
Artist Tim Sharp's cult-classic comes to life with eye-popping staging and offbeat humour.
Award-winning artist Tim Sharp's cult-classic superhero Laser Beak Man is ingeniously brought to life with eye-popping staging by Dead Puppet Society (The Wider Earth, Sydney Festival 2018).
Laser Beak Man, the hyper-coloured superhero first created by Sharp at age 11, protects the most beautiful city in the world, Power City, with laser beams that turn bad things to good. Robbed of his abilities after evil genius and estranged childhood friend Peter Batman steals his crystals, Laser Beak Man must fight to save his oldest friends and their city before they are destroyed forever.
Jam-packed with quirky humour, Laser Beak Man features over 35 original puppets, an infectious live soundtrack from Ball Park Music's Sam Cromack and the voice of ABC presenter and journalist Leigh Sales.
Nominated for four Helpmann Awards, Laser Beak Man is an entertaining, poignant and family-friendly story of inclusiveness, humanity and loving who you are.
The Risky Stuff: Smoke & haze effects, Strobe lighting,loud music, loud sound effects and Flying Objects
Running Time: 85 minutes - no interval
A lockout period applies to this event - latecomers will be admitted at a suitable break in performance
Presented by Sydney Festival 2020 at Drama Theatre, Sydney Opera House
5 STARS "Charming, funny, visually compelling and technically jaw-dropping" Scenestr
"Beautiful, important and the reason why art is made" - Blue Curtains Brisbane