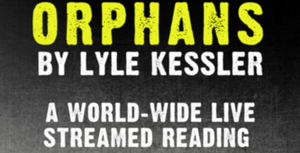 Live Streamed Reading: Orphans
Red Line Productions presents: A world-wide live streamed reading
This event has now passed.
Featuring Alec Baldwin, Aaron Glenane, Andrew Henry and Judy Jerome
Right now we all need to feel connected. Sharing stories is something that is eternal and in the veins of every human being in some way.
There is an option to buy a 'ticket' for a couple of bucks which will entirely support the survival of Red Line Productions., a vital Australian Theatre Company, but that is only to be done if people have the means. If people don't - they shouldn't think twice and just tune in anyway as orphans is a visceral and wild story that we are so excited to share. 
Click here for 'Ticket' details

About the play:
Two grown orphan brothers live in an old dilapidated row house in North Philadelphia—deserted in childhood by an unfaithful father and by the death of their mother. Older brother Treat, brutal and violent, provides for his younger brother Phillip by being a petty thief - When Treat kidnaps a Harold; a gangster from Chicago, Harold morphs into the role of teacher, healer and surrogate parent, that the boys have always longed for...
Beautiful, moving and ultimately heart-breaking, Orphans is a play that will stay with you long after you leave the theatre.
Presented by Red Line Productions