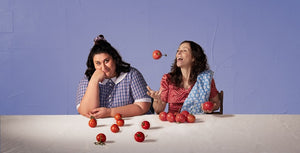 Looking For Alibrandi
The beloved novel of migration, growing up, and Sydney – now a play!
This event has passed. 
Three generations of women. The Italian-Australian experience. A tale of Sydney. A much-loved modern classic novel, a ground-breaking film, and now at Belvoir, a simply great night out.
It's the last year of school, and 17-year- old Josephine Alibrandi can't wait for her future to begin. If only she can get past the world of her Nonna, holding on to the values of the old country; and the world of her Mum, full of care and secrets. It's time to take her place in the real world, beyond her family, beyond being an Alibrandi.
But this is the year Josie gets to know her father. This is the year she falls in love. And this is the year she uncovers the truth – and finds the Alibrandi she has been searching for.
Running time: 2hrs 20min (including interval)
Find out more about Looking for Alibrandi. Presented by Belvoir St Theatre.