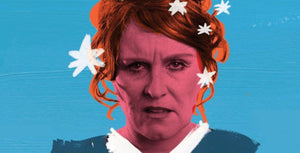 Maggie Stone
An honest portrait of modern Australia.
This event has now passed.
Meet Maggie Stone, the hard-hearted face of Australia's belligerents. She's a rude, prickly, fifty-something small loans officer who doesn't owe the world a thing.That is until she finds her fate unexpectedly intertwined with that of the Deng Family. 
After refusing the plea for an $800 loan, Maggie learns of the consequences that follow, leaving her indebted to a family left behind.
Enter a ruthless creditor, Leo Hermes, demanding an impossible payment from a family already drowning in debt. Maggie learns first-hand the politics of charity, for even favours require gratitude, investment requires returns and an outstanding debt awaits satisfaction. 
Described by The Australian as "astutely incisive and often bitterly funny," audiences will find the inherently flawed Maggie Stone frightfully familiar. 
A Sydney Premiere
Find out more about Darlinghurst Theatre Company