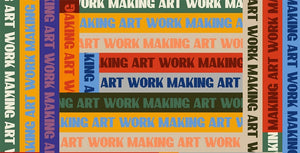 Making Art Work
40 artists 
create new works that reinforce the importance of creative labour in a time of uncertainty
A commissioning initiative of the Institute of Modern Art, Making Art Work proposes an experimental role for the institution as administrators of economic stimulus for artists. Drawing on the historical model of the Roosevelt administration's New Deal Federal Art Projects of the Great Depression, this expansive project reimagines the idea of 'relief measures' for artists working in the 21st century.
Taking place across 2020—during and post COVID-19 lockdowns—the project will see over 40 artists create new works that reinforce the importance of creative labour in a time when the cultural and economic value of art has been diminished. Drawing from the politicised language of our current crisis, each artist has been asked to respond to the provocations posed by four curatorial pillars; Unprecedented Times, Industrial Actions, Permanent Revolution, and Relief Measures.
Released in four rounds of presentations, commissions will span new artworks, texts, workshops, ephemeral projects, and more. 
As a whole, this initiative not only responds to the current global emergency, but more importantly reinforces the value of artists during a time of increased precarity and apathy towards the arts. A call to action, Making Art Work demonstrates the public 'use' of art and the art institution in contemporary life.
Presented by the Institute of Modern Art