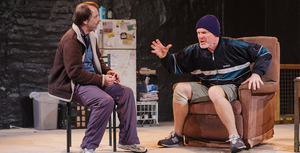 Mary Rachel Brown's The Dapto Chaser
The Dapto Chaser 
This event has passed
Mary Rachel Brown's dark comedy about a family for whom the dog track is everything, good and bad.
A Merrigong Theatre Company commission, The Dapto Chaser is a bold comedy filled with all the heartache and humour of family politics. A local story set in the colourful world of dog racing, the play gets under the skin of one of our town's iconic subcultures, pitting blood ties against the lure of the track.
Director: Glynn Nicholas
Cast: Danny Adcock, Noel Hodda, Jamie Oxenbould, Richard Sydenham
Watch the special on ABC's iview here. Available to watch online until 30 July 2020. 
Presented by the Merrigong Theatre Company