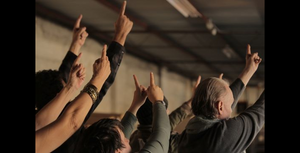 Natural Order
Milk Crate Theatre's new major work hits the stage as part of Homelessness Week 
This event has now passed. 
Over an 18-month development process, Milk Crate Theatre participants, along with enigmatic and creative artistic practitioners, have developed a multi-layered production comprising live performance, film, comedy, text, drama, song, sound and light.
Natural Order emerges from the everyday experiences of the company's participants to explore the physical and emotional impacts on the human condition of being forced into preordained societal structures.
Running Time: 1 Hour and 30 minutes
Presented by Milk Crate Theatre at Petersham Town Hall