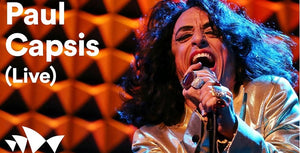 Paul Capsis (Live)
Sydney Opera House: From Our House to Yours
Bringing their stages to your sofa, the Sydney Opera House's new digital program comes to you weekly from their House to yours. Tune in weekly from Thursday to Sunday for archival footage, live broadcasts and premieres.
Paul Capsis (Live)
One of Australia's most extraordinary and versatile performers is ready to dominate the digital stage. Captivating and electric, join the goddess of cabaret as he fills the hauntingly empty Joan Sutherland Theatre, streaming straight to your living rooms. Performing a songlist spanning Joni Mitchell to Lou Reed, Amy Winehouse to Hedwig and the Angry Inch and accompanied by the exceptional pianist Jeremy Brennan.
Globally recognised for his cabaret and theatre credits including The Deep Blue Sea, Threepenny Opera, Tales From the Vienna Woods (Sydney Theatre Company), Angela's Kitchen (Griffin Theatre), Cabaret (Hayes Theatre and Athenaeum), Rumpelstiltskin (Windmill Theatre and Southbank Theatre London) and The Rocky Horror Picture Show (Newtheatricals), as well as film and tv appearances including Sunday Arts, Spicks and Specks and ABC's Art Nation. Eccentric and fabulous, this is the perfect remedy for the lockdown blues. Don't miss this exclusive performance by Helpmann Award winning star Paul Capsis. 
Presented by the Sydney Opera House