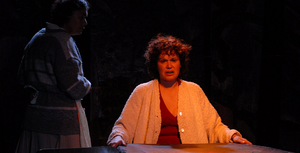 Play Reading: Cookie's Table
A free reading of Wesley Enoch's The Story of the Miracles at Cookie's Table
As part of celebrating 50 Years of the Stables, Griffin is presenting a series of rehearsed play readings of seminal works from the Stables' canon across 2020. These readings are hosted by theatre aficionado John McCallum, former Griffin Script Club captain and theatre reviewer for the Australian.
Our fourth play reading for the year is Wesley Enoch's The Story of the Miracles at Cookie's Table and will be streamed on Sunday 20 September 2020 at 5pm
In the 1870s a girl is born under a tree. When her birth tree is cut down, she follows it into the white man's world, where it becomes the kitchen table that she passes down through generations as the centrepiece of family legacy. Now, many years later, a young man and his mother fight over this table and the stories it holds.
Leah Purcell and Marion Potts reunite for this reading of Wesley Enoch's powerful family drama exploring culture lived, lost and found, the strength of family, and the binding power of stories.
Run Time
Approximately 65 minutes plus a 20-minute post-reading Q&A with John McCallum and creatives involved in the reading.
The Story of the Miracles at Cookie's Table play reading will be performed live at the SBW Stables. If there are any changes to this plan, you'll be updated as soon as possible.
This event is free, but registration is essential.
Presented by the Griffin Theatre Company