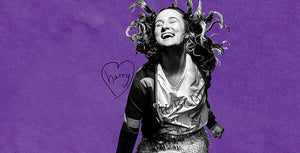 Playwave Experience: Fangirls
Playwave members are invited to join Young Belvoir Club for a special Fangirls Experience 
This event has now passed
Join us in the theatre foyer from 5:30pm for a talk by Fangirls Assistant Director Carissa Licciardello, before seeing the show at 6:30pm. After the performance the cast from Fangirls might be in the foyer for a quick chat if you are very lucky! Please arrive by 5:15pm for a 5:30pm start.
Fangirls 
A show about being young, in love and passionate without limits. 
Fangirls is a hilarious new musical created by and co-starring Yve Blake. Yve is joined by a stellar cast of new talent, including teen sensation Aydan from The Voice, making his stage debut as the popstar Harry. 
Fangirls is an ode to anyone who has ever been a fan; a show about teenagers and how powerful they truly are. 
Don't miss the new Australian musical event of the year!
Book, music and lyrics by Yve Blake
Director Paige Rattray
Vocal Arranger/Music Director Alice Chance
Music Producer/Sound Design David Muratore
Dramaturg Jonathan Ware
This show is for anyone who's ever been a fan. It's especially for anyone who is or has ever been a girl with a screaming stadium of feelings inside them. It's dreamy, wild, and hyperalive. We crawled over broken glass to bring it to Belvoir.
Presented by Belvoir, Queensland Theatre, Brisbane Festival in association with Australian Theatre for Young People