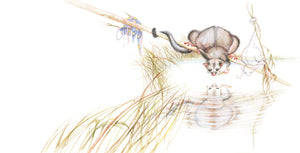 Possum Magic
Based on the book by Mem Fox and Julie Vivas
This event has now passed. 
For over 30 years Mem Fox's Possum Magic has captivated and enchanted young people. Joined by an extraordinary creative team, Monkey Baa is thrilled to be presenting a brand-new stage adaptation of this magical Australian classic.
To complement this theatre performance, the Casula Powerhouse Public Programs and Education Department is offering a free possum mask workshop before the theatre show.
A Monkey Baa Theatre Company production presented by Casula Powerhouse Arts Centre