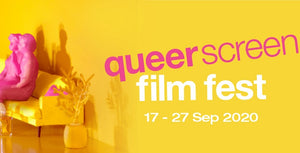 Queer Screen Film Festival
The LGBTIQ+ movie showcase goes national, streaming online for all Australians to enjoy
For the first time in its short but spectacularly fabulous lifetime, the Queer Screen Film Festival, the mid-year spin-off of big sister the Mardi Gras Film Festival, will light up screens all over Australia. 
Embracing the new normal, most of the fest will go online for you to stream on your telly, laptop, iPad or phone from September 17-27. It opens up the queer movie magic to folks all over the country, and there are also a couple of options for Sydneysiders to come together to celebrate LGTBIQ+ cinema with the community.
Single tickets are $12, or $10 for Queer Screen members, or you can grab a bunch of multi-passes. The in-person events are a teeny bit more. Full details can be found on the Queer Screen website.