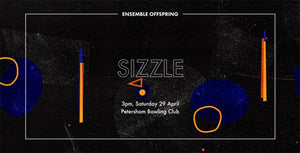 Sizzle
From art music to pop music and everything in between, Sizzle returns to the Petersham Bowling Club for another year of free, family-friendly aural delights.
This event has now passed. 
2018 features Ensemble Offspring's virtuosic instrumentalists alongside two driving forces in Sydney's music world; Satsuki Odamura and her Koto Ensemble and Alice Chance with her new work for you, the audience, entitled The Audience Choir.
David Lang's Cheating, Lying, Stealing whirls through the club alongside the Australian premiere of Erik Griswold's Action Music 2, and we once again hear from 2017 Hatched Academy composer Ciaran Frame with his catchy quartet Listeners as Spectators.
Our brand new Hatched Associate Artist, Georgina Oakes joins us for the first time on clarinet and Liz Jigalin returns with another interactive musical experience featuring her Sound Parcels downstairs – a one on one sonic adventure where you get to take home your own little sound parcel made live by Liz.
Bring along the family and revel in the fun and raucous variety show that is Ensemble Offspring's annual Sizzle.
PROGRAM
Hikaru Sawai – Rock Garden [9′]
Hikaru Sawai – Okoto [10′]
Alice Chance – The Audience Choir (World Premiere) [15']
Liz Jigalin – Sound Parcels performances & survey (World Premiere)
Georgina Oakes – solo clarinet set
Erik Griswold – Action Music 2 (World Premiere) for bass clarinet, viola, trombone, percussion, keyboard, clarinet, cello, flute [12']
Ciaran Frame – Listeners as Spectators for bass clarinet, viola, percussion, keyboard + electronics [8']
David Lang – Cheating, Lying, Stealing for piano, percussion, cello, bass clarinet, brake drums [10'5]