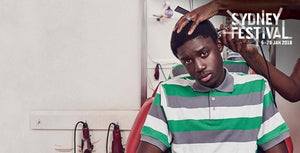 Sydney Festival Presents: Barber Shop Chronicles
A fresh, funny and honest play about the hangouts where African men can be themselves, direct from the National Theatre in London.
This event has now passed.
For African men the world over, the barber shop is more than a place to get a shave and a haircut. It's a place to hear news, share views and talk politics, women and sport.
It's a place where a man can let down his guard, blow off steam, and leave looking sharp and feeling reinvigorated. The Nigerian-born, UK-based poet, designer and playwright Inua Ellams imagines these buzzing spaces on stage in a fresh, funny, truthtelling play, direct from the National Theatre in London.
The audience visits barber shops in London, Harare, Kampala, Lagos, Accra and Johannesburg to eavesdrop on individual problems, common obsessions, the complex
legacies of colonialism and jokes without borders. This acclaimed production, directed by Bijan Sheibani and showcasing some of the finest acting talent in Britain, comes to Sydney direct from a successful UK run.
Running time: 105 minutes
The risky stuff: Coarse Language
Lock out Period applies. Latecomers admitted at suitable time.
Find out more about Sydney Festival