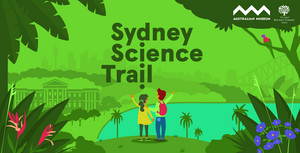 Sydney Science Trail
Explore the Sydney Science Trail to spark your inner scientist and discover how science can help our planet
This event has passed
Prepare for a great adventure as the Sydney Science Trail gets ready for children across the country (5-15 years), and their adult friends and teachers, to join the mission to help planet Earth.
From 15 August to 15 September, the Australian Museum and the Royal Botanic Garden Sydney - featuring our friends at the Australian Theatre for Young People - are collaborating to create an exciting and interactive virtual science experience for National Science Week and beyond.
Sydney Science Trail is a free digital quest jam-packed with interactive games, live-streamed talks, explosive science shows and virtual tours from world-class scientists and researchers.
Explore the depths of the ocean previously unseen, discover the incredible resilience of the Australian bush when faced with fires, and gain a unique understanding of First Nations' approaches to science and the world around us.
The virtual expedition traverses many vital areas of science, from plants and animals, to earth, technology and space, showcasing the best of Sydney's science and research.
The Sydney Science Trail school program, created in partnership with the NSW Department of Education, presents a unique opportunity for teachers and home-schooling parents to engage their students in the exciting world of scientific research. Let students discover the fascinating powers of adaptation and more, in an interactive, curriculum-linked, virtual classroom.
National Science Week in August is an annual celebration that excites the inner-scientists in all of us.
Head to the Sydney Science Trail website to find out your mission or download the full program here.