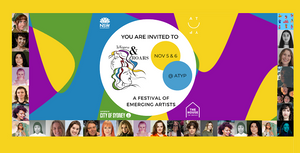 Whispers and Roars Festival
The House is celebrating Sydney-based female-identifying emerging artists in the WHISPERS & ROARS FESTIVAL 2022!
This event has now passed. 
A collective of 18 artists ages 14-30 are presenting original works this year across a weekend long festival. Join us hearing, seeing, laughing, gasping and celebrating new artwork. 
Lead Artists
Bria McCarthy: Bria McCarthy is an emerging writer and theatre maker working in Western Sydney. In 2022 her debut manuscript 'Finding Liminas: The Sudden Tree' was shortlisted for the Text Prize 2022. In 2022 she also wrote and created a shadow puppet short film called 'Murriyang: Seven Sisters Rising'. Her work is characterised by an interest in environmental philosophy, a sense of wonder and playfulness, and her experimental approaches to devised theatre.
Eliza Scott: Eliza Scott is an interdisciplinary artist working across performance, sound and film. Their practice investigates the use of movement, technology and sound in live performance - through the use of loop pedals, live-feed and audio-trickery.
Jennifer Hankin: Soulful vocals caress gentle ukulele, stitched together with lilting flute create the sonic pallet of multidisciplinary artist The Emerald Ruby. Working out of Awabakal and Wollomi land her arts practice is prolific and multifaceted encompassing performance, composition, fine arts, photography, videography, fashion design and the written word. The Emerald Ruby's artistic exploits often explore her experiences moving through the world as a late diagnosed Autistic human. 
Leila Harris: Leila Harris is an innovative composer, singer-songwriter, soprano, pianist and producer. Transcending and blurring lines between the genre constraints of classical, contemporary and theatre music, Leila combines her eclectic training and influences. She is passionate about pushing boundaries and using outspoken and unconventional art to uplift and empower. 
Purtika: Putrika is a Jakarta-born, Eora-based singer, songwriter, and electronic music producer. She defines her music as alt-soul electronica with multi-layered vocals and synths, percussive drums and ambient soundscapes. 
VRDA: VRDA is a self-produced electro indie pop artist from Sydney Australia. Fusing her background as a classical violinist and her love for rich synth and vocal harmonies, she creates a symphony of layered sounds that will both pull at your heartstrings and get your head bobbing.  

Find out more about the Whispers and Roars Festival. 
Presented by The House that Dan Built.