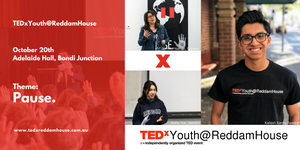 TEDxYouth@ReddamHouse
Get ready for a day of inspirations and actions!
This event has now passed.
TEDxYouth@ReddamHouse is an independent TEDx event, organised entirely by a team of year 10 students, with our mission "Created by youth for youth" in mind. As a team, we hope to demonstrate how anyone, no matter what age, is capable of making a worthy contribution to society. This is the only high school TEDx event in the Eastern Suburbs for the past 5 years, and there will be 9 engaging speakers, bringing an authentic TEDx experience to you.
Pause
TEDxYouth@ReddamHouse's theme is Pause this year.
Living in a world of rapid changes, we often forget to take a moment to relieve ourselves from the present. In the absence of time, we seek the unspoken opinions of our community and meet inspiring ideas from remarkable individuals.
Running Time: 4 hours (2:00pm - 6:00pm)
Check out our speakers on www.tedxreddamhouse.com.au!