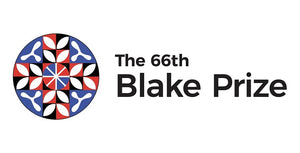 The 66th Blake Prize
Entries are now open for the 66th Blake Prize
The Blake Prize is one of Australia's longest-standing and most prestigious prizes which encourages conversation about religion and spirituality through art and poetry. Hosted by Casula Powerhouse Arts Centre and Liverpool City Council since 2016, The 66th Blake Prize will return in 2020. 
Key dates:
29 November 2019 - Entries open
12 October 2020 - Entries close Art Prize
The Blake Art Prize attracts entries from artists around the world looking for exposure for their work, the opportunity to be hung in the exhibition and to compete for various prizes including the $35,000 main prize.
Three prizes are selected by the judges for the best contemporary artwork that addresses the religious or spiritual.
1. The Blake Prize is a non-acquisitive prize of $35,000
2. The Blake Emerging Artist Prize is an acquisitive prize of $6,000
3.  The Blake Established Artist Residency - consisting of a residency and solo exhibition hosted by CPAC.
All prizes are strictly non-sectarian. Entries are not restricted to works related to any faith or artistic style. All artworks entered must have a recognisable exploration of faith, spirituality, religion, hope, humanity, social justice, belief and/or non-belief.
Entries close 12 October 2020
For more information, visit casulapowerhouse.com/get-involved/prizes/the-66th-blake-art-prize