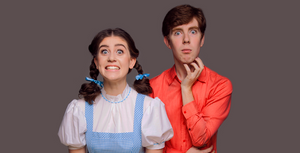 Sydney Festival Presents: The Aspie Hour
Heartfelt, hilarious cabaret hitting high notes about musical theatre and Asperger's Syndrome.
This event has now passed
Delightfully irreverent and joyous cabaret from two talented performers who relate their experiences living with Asperger's Syndrome through the prism of their love for musical theatre.

Writers and performers Ryan Smedley and Sophie Smyth use their shared passion for musicals – and plenty of jokes – to explore their experiences with 'Aspieness', from misreading social cues to their knack for recalling obscure musical theatre facts.

The Aspie Hour debunks common misconceptions about the neurological condition and celebrates the life-changing glee of big-hearted song and dance.

A Green Room Award-winner for Best Writing and nominee for Best Ensemble, The Aspie Hour played to sold out houses during its extended run at the 2018 Melbourne International Comedy Festival. This heartfelt and hilarious cabaret comes complete with a custom-made replica Dorothy costume from The Wizard of Oz and as much perfectly memorised musical trivia as you can handle.
Running Time: 60 minutes - no interval
A lockout period applies to this event - latecomers will be admitted at a suitable break in the performance
Presented by Sydney Festival 2020 at Carriageworks
5 STARS "Raw honesty and oddball wit" – The Age 
5 STARS "A masterclass in musical comedy" – You Should See It