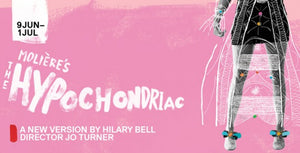 The Hypochondriac
An irreverent and delicious farce where the old world meets the new.
This event has now passed.
Argan is a needy and controlling patriarch of a household of women, and his hypochondria is the perfect means to keep them at his beck and call. But when his self-obsession extends to selling off his daughter in return for on-tap medical attention, his housekeeper Toinette decides it's time to fight back.
In this world premiere, Hilary Bell adapts Molière's classic satire for  contemporary Australian audiences.
The Hypochondriac critiques a society of overdiagnosis and over-prescription that has us clamouring for short-cut fixes and pharmaceuticals.
The Hypochondriac is an hilarious farce for our times where all's well that ends well and a little bit of sense triumphs over the unreasonable.
A World Premiere.
Find out more about Darlinghurst Theatre Company