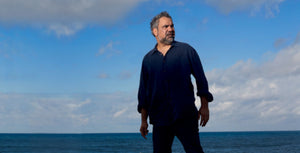 The Long Forgotten Dream
A search that unravels a family. A must-see world premiere.
This event has now passed.
Don't miss this extraordinary and unique new Australian drama that is already making waves. For its world premiere at Sydney Opera House, The Long Forgotten Dream unites a star-studded cast and creative team led by lauded film and theatre director Neil Armfield (Holding the Man, STC's The Secret River).
Evoking our windswept Australian coast and reaching into far corners of the world, this epic tale is a rich tapestry of families, history and murder told with wry humour, an array of captivating characters and even a little magic.
Archaeologist Simone Tucker (Jada Alberts) has returned home to South Australia with good news. Having crossed oceans to follow historical clues, she has scoured archives in great and obscure museums of the world to find her great-grandfather's bones. After two years of cramped planes, dingy hotels and endless searching, she has finally found them, jumbled in a dusty box. Now, it's her mission to put him to rest. She wants to give him the burial he always deserved.
What Simone doesn't realise is that this burial will unearth heartrending secrets for herself and her family. Her small coastal town has a dangerous history, and her father Jeremiah (Wayne Blair) just wants to keep the peace.
Inspired by true stories, Ngarrindjeri writer H Lawrence Sumner's exceptional play is a sweeping family story that brings to life four generations of history in an enchanting Australian town. This is a beautiful piece of writing by one of the most exciting new voices to come along in many years.
The Long Forgotten Dream will capture your mind and heart. Join us for a wonderful, deeply moving night in the theatre.
"Finally something deep and good is happening. Something that you don't understand."
Jeremiah
Running time: 2hrs (including interval)
The Risky Stuff: Strong language
Production Patron: The Girgensohn Foundation