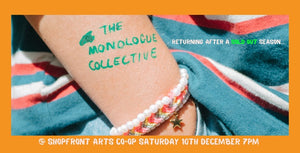 The Monologue Collective Returns
Stories of queer love, neurodiversity, toxic masculinity and meeting your crazy mum at schoolies, that are all written by the diverse voice of Australian youth today.
This event has passed. 

"Thousands of teenagers perform a HSC monologue every year written by an older writer reminiscing on what being a teenager felt like. The Monologue Collective puts teenagers at the forefront of telling their own stories" Founder and facilitator Laneikka Denne. 
We're sending out 2022 with a bang at Shopfront - with our final Scratch Night of the year being TAKEN OVER by some amazing teenage writers, and an awesome bunch of emerging actors who make up The Monologue Collective. 
The Monologue Collective have created a theatre initiative where ten teenage writers were commissed to develop a 6 - 8 minute monologue for teenagers to perofmr in the HSC individual drama performance. They had an amazing sold out season at KXT in October and we just knew that shopfront had to bring these fantastic artists to Southern Sydney to get another shot at staging their work. 
It's short works, by young artists, in awesome ways. What better way to spend our last Scratch Night of 2022 than an evening with The Monologue Collective. 
Running time: 85 minutes

Supported by Shopfront Arts Co-Op, PYT Fairfield amd assisted by Create NSW.