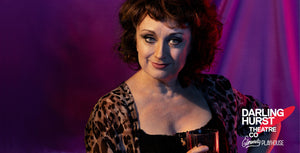 The Rise And Fall Of Little Voice
In a northern English town lives a girl with a secret.
This event has now passed. 
Little Voice hides away in her bedroom surrounded by her late fathers' precious record collection of the great 20th century divas. She escapes into the glamorous world of Marilyn Monroe and Judy Garland whose stylings drift downstairs to a house ruled by her brassey, boozy mother Mari.
Mari, played by legend of Australian stage and screen Caroline O'Connor, is on the prowl, desperately looking for love in all the wrong places. Her latest suitor, Ray Say, discovers Little Voice's hidden talent and is determined to force her into the spotlight to cash in his golden ticket to the Big Time.
This tale of mothers and daughters was made famous in 1998 with the cult classic film "Little Voice" starring Jane Horrocks.  This razor-sharp Cinderella story will transport you out of the mundane and into the extraordinary.  

Caroline O'Connor is an Australian theatre legend, critically acclaimed both on Broadway and the West End. "Caroline O'Connor is extraordinary" - The Australian
★★★★ The Guardian, UK
★★★★ The Times
 "Little Voice is playful and magical " 
- Sunday Times
"A cracker, original and hilarious " 
- The Daily Telegraph
Find out more about Darlinghurst Theatre Company