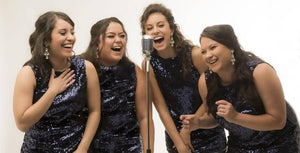 The Sapphires
The multi award-winning musical play inspired by the remarkable true story of writer Tony Briggs' mother, returns to the stage for a limited season.
This event has now passed
Set in the heady days of the late '60s, a quartet of young, talented singers from a remote Aboriginal mission, are discovered and guided by a kind-hearted, soul-loving manager.
Plucked from obscurity, the four spirited women with powerhouse voices, called The Sapphires, are given the opportunity to entertain American troops in Vietnam. Catapulted onto the world stage as Australia's answer to The Supremes, their journey of discovery offers them not only the chance to show off their musical skills, but also to find love and togetherness and experience loss and grow as women.
This uplifting Australian classic, full of comedy, heart and romance, together with unbeatable soul music, will stay with you for years to come.
The Risky Stuff: Contains mild coarse language, simulated warfare and adult themes.
Running Time: 2 hours 20 minutes (including 20 minute interval)
Presented by Christine Harris and HIT Productions at Riverside Theatres