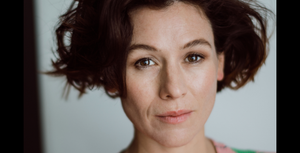 The Space Between Words
Some of the nation's most accomplished actors bring their skills to bear, reading electrifying poems that hold special meaning
Illuminating the beauty and force of poetry, each performer reads a piece they have chosen on the Festival theme, Within Reach. Featuring Michala Banas, Bryan Brown, Michelle Lim Davidson, Virginia Gay, Georgina Haig, Remy Hii, Alex Lee, Ewen Leslie, Tim Minchin, Pamela Rabe, Toby Schmitz, Yael Stone, Toby Truslove, Mia Wasikowska and Megan Wilding.
This event is Auslan interpreted.
Supported by the JIBB Foundation.
Toby Schmitz is a writer, director and actor. He was most recently seen on television in Bloom (Stan), and on stage in Thom Pain (based on nothing) and Degenerate Art, which he wrote and directed (Red Line). Toby has extensive acting theatre credits including for Belvoir, Sydney Theatre Company, Melbourne Theatre Company, Bell Shakespeare and Griffin Theatre.
Toby received Helpmann Award nominations for his performances in Thyestes, Much Ado About Nothing and Ruben Guthrie, and Sydney Theatre Award nominations for Howie The Rookie, The Great and Ruben Guthrie. He is also a celebrated playwright, and was awarded the Patrick White Award for his play Lucky.
Toby's television credits include Reckoning, Newton's Law, Blue Murder, Miss Fisher's Murder Mysteries, Underbelly: The Man Who Got Away and Black Sails. His film credits include Griff the Invisible, Three Blind Mice, The Rage in Placid Lake and Somersault.
Toby Truslove has been a favourite on the Australian stage and screen for over 15 years. 
Toby's television credits include Bad Mothers, Ms Fisher's Modern Murder Mysteries, True Story with Hamish and Andy, The Wrong Kind of Black, Get Krack!n, Utopia and Laid, for which Toby received the Monte-Carlo Television Festival's Golden Nymph Award nomination for Outstanding Actor. Selected film credits include Koko: The Red Dog Story, I Love You Too, Squid, How to Make a Monster and Smoking Will Kill You. 
A regular on the theatre scene, Toby's credits with the Melbourne Theatre Company, Sydney Theatre Company, Belvoir and Bell Shakespeare include Home, I'm Darling, The Beast, 33 Variations alongside Ellen Burstyn, Bliss, The Last Man Standing, The Speechmaker, Troilus and Cressida, The Cherry Orchard and Strange Interlude, for which he received a Sydney Theatre Award.

Michala Banas is an award-winning film, television and theatre actor. With a remarkable career spanning over three decades, Michala has starred in over 40 films, television and theatre productions.
She quickly became the go-to girl for TV drama in Australia starring in Always Greener, Winners & Losers (Seven Network), McLeod's Daughters, Bad Mothers (Nine Network) and Nowhere Boys (ABC) with her most recent television credits including Halifax: Retribution for the Nine Network.
After the huge success of Upper Middle Bogan (ABC), where she played the much-loved and hilariously feisty Amber Wheeler, Michala has been in high demand for comedy starring in Hamish and Andy's True Story, Luke Warm Sex, Get Krack!n and most recently Fam Time.
Michala's film credits include comedies That's Not My Dog and Ned, as well as Scooby-Doo and Nowhere Boys: The Book of Shadows.
Selected theatre credits include The Odd Couple and Birdland for Melbourne Theatre Company, Lottie in the Late Afternoon for Kin Collective, Funny Girl for Sydney Symphony Orchestra and Avenue Q for Arts Asia Pacific, which she won a Helpmann Award for.
Mia Wasikowska will next be seen in Mia Hansen-Love's Bergman Island and Robert Connolly's Blueback.
She was most recently in Roger Mitchell's Blackbird alongside Kate Winslet, Sam Neill and Susan Sarandon, the Netflix feature The Devil all the Time alongside Chris Evans, Robert Pattinson and Tom Holland, and Mirrah Foulkes' debut feature Judy and Punch, which had its world premiere at the 2019 Sundance Film Festival and earned Mia a Film Critics Circle of Australia Award for Best Actress.
Mia gained international recognition as the title character in Tim Burton's 2010 retelling of the Lewis Carroll novel Alice in Wonderland, alongside Johnny Depp, Anne Hathaway and Helena Bonham Carter. Her performance earned her the AFI Award for Best International Actress. In 2015, she reprised the role in James Bobin's sequel, Alice Through the Looking Glass.
Her other credits include Nicolas Pesce's Piercing, which premiered at the 2018 Sundance Film Festival, David Zellner's Damsel, Cédric Jimenez's The Man with the Iron Heart, Guillermo del Toro's period thriller Crimson Peak, Sophie Barthes' Madame Bovary, David Cronenberg's Maps to the Stars, Richard Ayoade's The Double, John Curran's Tracks, Jim Jarmusch's Only Lovers Left Alive, Park Chan-wook's Stoker, John Hillcoat's Lawless, Rodrigo Garcia's Albert Nobbs, Cary Fukunaga's Jane Eyre, Gus Van Sant's Restless, Lisa Cholodenko's The Kids Are All Right, Scott Teems' That Evening Sun, Peter Carstairs' September, Greg McLean's Rogue and Paul Goldman's Suburban Mayhem. Mia also featured in the first season of the acclaimed HBO series In Treatment.
Mia made her directorial debut with Long, Clear View, a segment of The Turning, based on Tim Winton's novel, which was nominated for an AACTA Award in 2013. She followed this with Afterbirth, a segment of Madly – an international anthology of short films featuring innovative love stories that premiered at the 2016 Tribeca Film Festival.
In 2019, Mia made her main stage theatre debut as Ralph in Sydney Theatre Company's production of Lord of the Flies, directed by Kip Williams.
Mia has also received the Hollywood Breakthrough Actress of the Year Award and the Australians in Film Breakthrough Award.
Australian actor Yael Stone is best known for playing Lorna Morello in seven seasons of the multi-award-winning Netflix series, Orange Is the New Black. She's known to Sydney theatregoers for many roles including in Diary of a Madman and The Beauty Queen of Leenane. Yael began working on screen in Australia at the age of 12. She has a slew of awards under her belt including Best Newcomer, Best Supporting Actor and three-time SAG Award winner for Best Ensemble. She is a proud ambassador for AIME and has written for The Guardian, The Sydney Morning Herald, Elle and Junkee. In January, 2020 at the height of the Australian bushfires, Yael announced that she would be abandoning her US Green Card, with major impact on her transatlantic film career, and returning home to Australia as a symbol of her commitment to reducing CO2 emissions. She's currently studying Sustainable Communities at the University of Wollongong.


Ewen Leslie graduated from the Western Australian Academy of Performing Arts in 2000 and has since become one of Australia's most popular faces on stage and screen. 
Ewen's film credits include the critically acclaimed The Daughter, The Nightingale, Peter Rabbit 2, Sweet Country, The Mule, The Railway Man, Dead Europe, Sleeping Beauty, Three Blind Mice, Katoomba, Kokoda and Jewboy. 
Selected television credits include Jane Campion's Top of the Lake: China Girl, which premiered at Festival de Cannes, the Emmy Award–winning Safe Harbour, Operation Buffalo, The Gloaming, Fighting Season, Janet King, Deadline Gallipoli, Wonderland, Mr and Mrs Murder, Top of the Lake, Rake, Redfern Now, Devil's Dust, Mabo, My Place, Lockie Leonard, Love My Way, The Junction Boys, All Saints and The Road from Coorain. He starred in The Cry alongside Jenna Coleman and most recently The Luminaries opposite Eva Green and Eve Hewson, both for BBC. 
Theatre credits for Belvoir include Ivanov, Thyestes, Hamlet, Cat on a Hot Tin Roof, The Wild Duck, The Promise and Paul; for Sydney Theatre Comedy, Rosencrantz & Guildenstern are Dead and Riflemind; for Melbourne Theatre Company, Hamlet and Richard III; for Malthouse Theatre, The Trial and The Wild Duck.
Ewen received the Helpmann Award and a Green Room Award for his role in Richard III and a Helpmann Award and Sydney Theatre Award for The War of the Roses. Ewen has also received an AFI nomination for his performance in Jewboy, an AACTA Award for his work in Top of the Lake: China Girl and AACTA nominations for Operation Buffalo, The Daughter, Dead Europe, The Butterfly Tree, Fighting Season and The Cry. 


Pamela Rabe is one of Australia's most prolific and highly awarded actors. Her work in television includes The Secret Life of Us, Mercury, The Bite and Stingers, and most recently Wentworth, for which she won a Silver Logie Award for Most Outstanding Actress in 2018, and the AACTA Award for Best Lead Actress in a Television Drama in 2015. The final scene of the fifth season, in which her character Joan 'The Freak' Ferguson meets her apparent demise, was nominated for TV Moment of the Decade in the 2020 AACTA Awards.
Recent television roles include Principal De Rossi in the mini-series The Hunting and Maude in Fucking Adelaide. Pamela has appeared in several feature films including Sirens alongside Hugh Grant and Sam Neill, Paradise Road, Vacant Possession, Cosi and The Well, for which she won the 1997 AFI, Stockholm Film Festival and Variety Club awards for Best Actress.
For her work in theatre and musicals, amongst numerous nominations, she has been awarded three Helpmann Awards for Best Actress for The Children, The Glass Menagerie and Grey Gardens, eight Melbourne Green Room Awards, a Sydney Critics' Circle Award and a 'Mo' Award.
Other notable credits include The Dance of Death, Ghosts, The Cherry Orchard, A Little Night Music, A Room of One's Own, The Wizard of Oz, Les Liaisons Dangereuses and, while a founding member of the Sydney Theatre Company's Actors' Ensemble, several acclaimed productions including Mother Courage and Her Children, Benedict Andrews' The War of the Roses and The Season at Sarsaparilla, and Barry Kosky's The Lost Echo. Pamela has also directed plays for Sydney Theatre Company, Melbourne Theatre Company and Malthouse Theatre.


Remy Hii is a professional actor, hobbyist photographer and budding home chef. He is currently on screen in the ABC series Aftertaste and will next be seen in Del Kathryn Barton's debut feature Blaze. Remy most recently appeared in Marvel Studio's Spider-Man: Far From Home and the second series of the ABC drama Harrow.
His other screen credits include CBS pilot Jane The Novella, Network Ten's Sisters, the Netflix epic drama Marco Polo, Paul Currie's 2:22 and the critically acclaimed Warner Bros feature Crazy Rich Asians directed by John M. Chu. In 2013, Remy Hii starred as Van Nguyen in the gripping SBS drama Better Man. He received the Graham Kennedy Award for Most Outstanding Newcomer and an AACTA Award nomination for Best Lead Actor in a Television Drama for his role in the production.
His Sydney Theatre Company debut was in The Golden Age, and he has also worked as an actor for Playwriting Australia and the Queensland Theatre Company in several stage productions. Remy is a graduate of the National Institute of Dramatic Art (NIDA, 2011).


Tim Minchin is an Australian musician, comedian, composer, actor, writer and director.
He has toured extensively in the US, UK and Australia, performing solo, with bands and with symphony orchestras. He's released five DVDs, the most recent recorded with the Heritage Orchestra at the Royal Albert Hall. He is the composer lyricist of two hit West End/Broadway musicals, Matilda and Groundhog Day, both of which won the Olivier Award for Best West End Musical and garnered nominations for Best Score and Best Musical in Broadway's Tony Awards.
Tim wrote, produced and starred in the Sky Atlantic/Foxtel TV series Upright in 2019. Other screen-acting credits include Atticus Fetch in Season 6 of Californication, a Logie Award–winning Smasher Sullivan in the ABC's Secret River and Friar Tuck in Lionsgate's Robin Hood reboot. Stage highlights include Judas in the UK/Australian Arena tour of Jesus Christ Superstar in 2012, and Rosencrantz in the Sydney Theatre Company's Rosencrantz and Guildenstern are Dead the following year.
He has published two books: the graphic novel Storm and the illustrated childrens' book When I Grow Up. In November, 2021 Tim released his debut solo album Apart Together. He is a member of the Order of Australia, a philanthropist and a mediocre juggler.


Alex Lee is a comedian, television presenter and actor with a background in journalism. Alex worked on ABC News 24 and was a member of the Federal Parliamentary Press Gallery as a political reporter for BuzzFeed Australia. She has been a regular comedy guest on the triple j Drive program and the Free To A Good Home podcast.
Alex can be seen onstage several nights a week at The Chaser's Giant Dwarf Theatre performing in a variety of shows. She also plays Dungeons and Dragons live on stage as the half-orc Philge in the hit comedy podcast Dragon Friends, which has twice sold out shows at PAX Australia, toured to Seattle, Melbourne and Adelaide and has over 5,000 subscribers worldwide.
Alex's television credits include ABC TV's The Checkout, The Chaser's Election Desk, The Roast, Media Circus, Story Club, Saturday Night Rove and SBSVICELAND's The Feed.


Virginia Gay graduated from the Western Australian Academy of Performing Arts, then spent four years pretending to be a nurse on All Saints, six months pretending to be Julia Gillard in the Sydney Theatre Company's Wharf Revue, and then five years on Winners & Losers, where she pretended to know a lot about high finance. That last one, particularly, was a stretch. She won a Sydney Theatre Award for Best Actress for Calamity Jane, starred in the film Judy & Punch, which premiered at Sundance 2019, and wrote and directed her first short film Paper Cut, which made 2018 Tropfest. She is currently writing a new play for Belvoir, which will premiere in 2021.
Virginia has been an apocalyptic squid in Eddie Perfect's Vivid White, a prize bitch in The Beast, every stop on the bogan-to-hipster spectrum in On The Production Of Monsters, and Nancye Hayes' granddaughter in Minnie and Liraz, all for Melbourne Theatre Company. She played pacifist, suffragist and feminist Vida Goldstein in The War That Changed Us (ABC), and a fast-talking 1930s photographer in High Society (Hayes Theatre Company). She had a sold-out season at the Opera House of Cautionary Tales for Children (Arena Theatre Company) and was Bea Miles, the iconic (and homeless) Sydney eccentric, in the immersive-theatre experience Hidden Sydney.
She has written two solo cabaret shows, Songs To Self-Destruct To and Dirty Pretty Songs, both of which sold out at the Adelaide Cabaret Festival, and which toured nationally and internationally, most notably headlining the Famous Spiegeltent at the 2012 Edinburgh Fringe. She makes regular appearances on The Book Club (ABC), CRAM (Channel 10), Adam Hills' In Gordon Street Tonight (ABC), Good News Week (Channel 10), Studio at The Memo (Foxtel) and The Unbelievable Truth (Channel 7).


Iconic Australian actor Bryan Brown became an international success in the early eighties with critical acclaim from performances in Breaker Morant and the TV series A Town Like Alice. A stream of Australian hits and Hollywood productions followed including The Thorn Birds, Gorillas in the Mist, FX, Newsfront, The Shiralee, Cocktail, Two Hands, Beautiful Kate, Along Came Polly, Australia and in 2019 Palm Beach which he produced and starred in. In a 40-year career Bryan has appeared in over 80 films and worked in some 25 countries. This achievement earned him the prestigious Longford Lyell Award at the 2018 AACTAs recognising his contribution to Australian cinema.


Megan Wilding, a proud Gamilaroi woman, has established a reputation as a prolifically talented actor, writer and director. Since graduating from WAAPA, Megan has appeared in leading roles in Banging Denmark and Blackie Blackie Brown for the Sydney Theatre Company and The Rover for Belvoir St Theatre. Her television credits include Sheilas, The Edge of the Bush and The Other Guy. Winner of the 2017 Balnaves Foundation Indigenous Playwright's Award, Megan also wrote and directed the acclaimed A Little Piece of Ash which was produced by the Jackrabbit Theatre Company at Kings Cross Theatre (KXT). Megan is currently directing Exit the King for Redline Productions at The Old Fitzroy.
This event is part of Sydney Writers Festival 2021