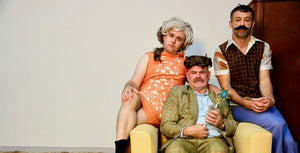 The Walworth Farce
What are we, if not our stories?
This event has now passed.
Dinny has kept his two boys Sean and Blake locked away from the dangers of the world in a tiny flat on Walworth Road South London ever since bringing them from Ireland as young Boys. 
He endlessly forces them to perform a farce at 11am every morning which is the story of their final day in their homeland. But as the outside world begins to infiltrate their seclusion and cracks begin to appear in Dinny's version of events the blurry line between truth and lies threatens to tear the family apart.
Equal parts hilarious, menacing, absurd, terrifying, tender, violent, and deeply moving, The Walworth Farce is a wild exploration into what can happen when we get stuck inside the stories we tell. Because in the end… 
"what are we, if not our stories?"
The craziest thing about Enda Walsh's Walworth Farce is how quickly it starts making sense. — New York Times
Writer: Enda Walsh
Director: Kim Hardwick
With: Rachel Alexander, Laurence Coy, Robin Goldsworthy, Troy Harrison
Assistant Director: Sarah Hadley
Set/Costume Design: Isabel Hudson
Lighting Design: Martin Kinanne
Sound Design: Benjamin Freeman
Stage Manager:  Stephanie Kelly
Lockout policy: Latecomers are not permitted to enter during the performance and there are no refunds/exchanges with regards to latecomers.
KXT Meal Deal: Book a ticket to the Sunday matinee and get a 10% discount on food at the Kings Cross Hotel when you show your ticket!
Find out more about the Kings Cross Theatre