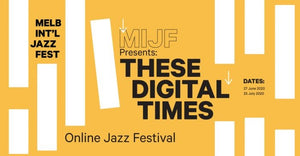 These Digital Times June
A free, online music festival presented by the Melbourne International Jazz Festival
This event has passed 
On the last Saturday of May, June and July, we'll bring you performances from some of the best in Australian and international jazz and contemporary music – live streamed direct to your living room in high definition from ALV Studios in Melbourne.
Join us from 10:30 am on Saturday 27 June for the next instalment. You will be able to access each performance via the website at the event start times.
Check out the festival on the These Digital Times website. 
This event is presented by the Melbourne International Jazz Festival