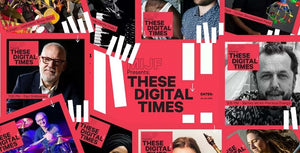 These Digital Times July
A free, online music festival presented by the Melbourne International Jazz Festival
On the last Saturday of May, June and July, we've been bringing you performances from some of the best in Australian and international jazz and contemporary music – live streamed direct to your living room in high definition from ALV Studios in Melbourne.
Join us from 11:30 am on Saturday 25 July for the final instalment. You will be able to access each performance via the website and all events are free to access and we won't ask you for any personal or credit card details except if you're donating directly through our website.
Performances from Saturday 30 May and Saturday 27 June are still available to view for a limited time.
Check out the festival on the These Digital Times website. 
This event is presented by the Melbourne International Jazz Festival