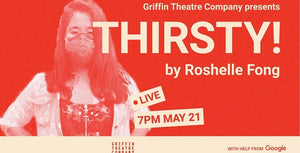 Thirsty! by Roshelle Fong
Griffin Theatre Company presents Thirsty!
Thirsty! is one of three performances created to explore new ways of bringing live performance to online audiences, with help from friends at Google.
Multidisciplinary artist and interactive performance extraordinaire Roshelle Fong had audiences on the edge of their seats with her Griffin Lock-In performance of Thirsty!, a witty, contemporary internet-noir performance piece for the quarantine era.
Like all Griffin Lock-In performances, the show disappeared into the online ether, but luckily for Grif-fans everywhere, Roshelle and collaborator Daniel Last are bringing Thirsty! back, with exciting new interactive potential, updated clues and oodles of intrigue, as part of a one-off presentation with our friends at Google's Creative Lab.
Content Warning
Thirsty! contains references to violence, strong language, and adult themes and is recommended for ages 15+.
Presented by the Griffin Theatre Company