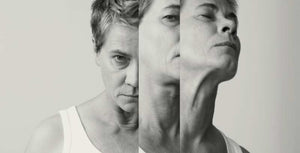 Titus Andronicus
War hero. Mother. Monster.
This event has now passed.
21 children left dead on the battleground, Titus returns home to Rome with Queen of the Goths, Tamora, and her three sons as prisoners of war. Titus Andronicus is Shakespeare's terrifying tale of two families locked in a violent cycle of chaos and bloody vengeance.
A confronting and gory revenge tragedy, Titus Andronicus was the smash hit of Shakespeare's early career.
Political intrigue and corruption turn to rape, cannibalism, mutilation and murder as people become pawns in a torturous battle of wills. Shakespeare dives into the depths of humankind's most vile traits and invites audiences to revel in the horrors that are found within. Grotesquely violent and boldly experimental, Shakespeare's bloodiest play is an interrogation of power and paranoia.
Directed by Adena Jacobs (Belvoir's Wizard of Oz and English National Opera's Salome) and starring Jane Montgomery Griffiths(MTC's Macbeth) as Titus Andronicus, this production will have you questioning where does the cycle of revenge truly begin and end?
The Risky Stuff: 
Titus Andronicus is a play by William Shakespeare that contains rape, body harm, amputation, murder, infanticide, gendered and racialised violence. Please be advised that this production will include this confronting content. It is recommended that any audience member concerned about this subject matter should familiarise themselves with the play before purchasing tickets. Please be advised that this production will include full frontal nudity, as well as physical and sexual violence, and self-harm.
CREATIVE TEAM
By William Shakespeare
Director Adena Jacobs
Designer Eugyeene Teh
Lighting & Projection Designer Verity Hampson
Composer & Sound Designer Max Lyandvert
Voice Coach Jess Chambers
Dramaturg Aaron Orzech
Presented by Bell Shakespeare