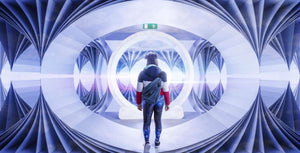 Trapper
Four players, the Gamer, the Fighter, the Architect and the Poet, who is in control?
This event has now passed.
Ding* Facebook.  Ding* Instagram. Jonny_Fling_Bling likes your photo!
Trapper asks: is technology a prison or a playground? Are our thoughts, needs and desires our own? Does social media control our life - or can we exercise our free will against these machines…
Featuring slam poetry and demanding physical agility young adults will revel in this fast-paced, witty and reflective experience, delivered by one of Australia's most exciting theatre companies.
Nominated for Green Room Awards for Best Ensemble and Best Lighting Design.
Presented by Sydney Opera House and Arena Theatre Company.
Running time: 65 minutes (no interval)