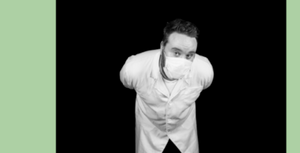 Two's A Company
Love. It's an affliction.
This event has now passed. 

How can you tell when you're in love though? How can you tell that it is love and not some horrible tyrannical egotistical reaction to the attention you're suffering through? Is Two a Company? Or is Two a Crowd? A new Australian play by Sarah Greenwood is a bleak retelling of a modern love story. A tragedy. A sci-fi. A love letter to my late cat. May he rest in peace. Are you sceptical of big pharma? Are you a victim of corporate greed? Have you suffered through love before? Come and commiserate..
By Sarah Greenwood
Directed by Charlie Devenport
Produced  by JackRabbit Theatre
Design by Rupert Parry
Photography by Genevieve French
Poster Design by Alexandra Stevenson
With Sarah Greenwood, Jack Scott, Brittany Santariga, Will McNeill, Shannon Ryan and Emma O'Sullivan
Find out more about the Kings Cross Theatre