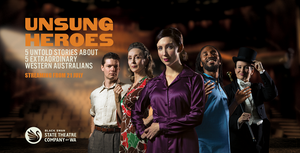 Unsung Heroes
A Digital Festival of Western Australian Stories 
This event has passed
Unsung Heroes is a collection of tour-de-force solo performances featuring 5 untold stories about 5 extraordinary Western Australians.

In a world premiere season directed by Emily McLean and Joe Paradise Lui, the production is a timely reminder of our shared humanity and our uniquely Western Australian identity, telling stories of courage, adventure, new beginnings, dignity, and life's music.

These pre-recorded solo performances will be live streamed for free from Tuesday 21 July. Each live stream will be followed by a live Q&A facilitated by Resident Artist Ian Michael.

From Wednesday 22 July until Monday August 3, registered attendees will be able to view all the performances on demand. To register, fill in your details using this link.
PROGRAM
Song in the Key of Trust
7:30pmWST, Tuesday, 21 July 2020
A renowned musician follows his passion for song to a country far from the land of his birth. Written and performed by Mararo Wangai and directed by Emily McLean.

The Unremarkable and Ordinary Life of Carmela Caterina Tassone (Née Panaia)
7:30pmWST, Wednesday, 22 July 2020
Carmela Caterina Tassone is a woman that places aren't named after. Her name never made newspaper headlines. You will never have heard of her. This is the story of her nondescript existence. Written and performed by Chris Isaacs and directed by Joe Paradise Lui.

The Perfect Boy
7:30pmWST, Thursday, 23 July 2020
From the stages of Subiaco to international acclaim, Effie Fellows wowed audiences around the world with her male impersonation act. Written by Gita Bezard, performed by Caitlin Beresford-Ord and directed by Joe Paradise Lui.
 
Lesson in The Art of Butterfly
7:30pmWST, Wednesday, 29 July 2020
A courageous doctor risks all to shine a light on the right to choose to die with dignity.
Written by Hellie Turner, performed by Alison van Reeken and directed by Emily McLean.

Own Way
7:30pmWST, Thursday, 30 July 2020
She's strong. She's smart. She has a wicked sense of humour. Her story of survival has changed domestic violence laws across Australia.Written by Barbara Hostalek and performed by Jo Morris and directed by Joe Paradise Lui.
EMOTIVE CONTENT WARNING
Contains some strong language, sexual references, adult themes. Graphic Descriptions of domestic / sexual / family violence; description of loss of child / stillbirth; description of death / dying.
Presented by the Black Swan State Theatre Company of WA