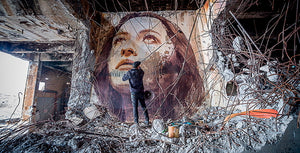 VR Experiences 3-6
Dive headfirst into four carefully curated VR experiences as part of Sydney Film Festival 2018.
This event has now passed.
A collection of the best new VR projects from Asia, Australia and beyond, including a voyage into space with NASA astronauts, a look inside the miniature animated set of Wes Anderson's new film Isle of Dogs, and an Australian VR film by artist Shaun Gladwell.
Book your VR Experience for only $10 and choose your adventure out of VR Experiences 3, 4, 5 or 6 on arrival. 
VR 3: STORM RIDERS, 28 mins
STORM RIDERS
Australia | 2018 | 28 mins | Director: Shaun Gladwell | World Premiere
A powerful and uplifting film about the creative and cultural exchange between Australian artist Shaun Gladwell and two female Muslim skateboarders.

VR 4: ASIA IMMERSED, 27 mins
EVERYTHING FLOWS
China, USA | 2017 | 5 mins | Director: Yumeng Du | Australian Premiere
A surreal visit to a strange city, created with a mix of painting, video capture, sounds, dreaming, memory and reality.
THE WHALE
South Korea | 2017 | 6 mins | Director: Noel Jungwoo Park | Australian Premiere
As the moon shines through a mysterious and radiant sky into the ocean, a ghost whale shows up with many stories hidden behind its eyes.
IN THE PICTURES - CHUANG, 16 mins
China | 2017 | 5 mins | Director: Qing Shao | Australian Premiere
A boy awakens from a dream to find himself transported into a spectacular world of fantasy where nothing is as it seems.
YOUR SPIRITUAL TEMPLE SUCKS
Taiwan | 2017 | 11 mins | Director: John Hsu | Australian Premiere
Mr. Chang arrives at his 'Spiritual Temple' in the after world and summons his guardian, the Thunder God, to solve his problems. It turns out to be a big mistake...

VR 5: HOME GROWN, 43 mins
CARRIBERRIE
Australia | 2018 | 15 mins | Director: Dominic Allen
Visit ceremonial creation dances in the Outback, bush-punk band The Lonely Boys performing in Alice Springs and beyond. Narrated by award-winning actor and dancer David Gulpilil.
PARRAGIRLS
Australia | 2017 | 6 mins | Director: Volker Kuchelmeister
A deeply moving, immersive experience that unlocks disturbing stories about the Parragirls, residents at a former state-controlled child welfare institution.
RONE
Australia | 2017 | 9 mins | Director: Lester Francois
A distinctive, 360-degree portrait of the titular street artist, whose stunning large-scale portraits of women's faces can be found around the city in soon-to-be-forgotten spaces.
SUMMATION OF FORCE
Australia | 2017 | 13 mins | Director: Matt Bare, Narelle Autio, Trent Parke
In a moonlit backyard, two brothers battle in an epic game of cricket. An immersive study of the motion, physics and psychology of elite sport.

VR 6: UNSEEN WORLDS, 45 mins
DENOISE
Italy | 2017 | 13 mins | Director: Giorgio Ferrero | Australian Premiere
A journey of words, sounds and geometries to get lost in. Immerse yourself in environments from an oil field in Texas to the engine room of an ocean-going freighter. Catch Beautiful Things by the same team.
ISLE OF DOGS VR
UK | 2018 | 6 mins | Directors: Félix Lajeunesse, Paul Raphaël, Isle of Dogs production team
Step inside the miniature world of Wes Anderson's new stop-motion animation Isle of Dogs.
SPACE EXPLORERS: A NEW DAWN
Canada, USA | 2018 | 19 mins | Directors: Felix and Paul | Australian Premiere
An exquisite live-action documentary about the new age of space exploration. Watch NASA astronauts as they navigate training and missions to understand our universe.
THE SUN LADIES
USA | 2017 | 7 mins | Directors: Celine Tricart, Maria Bello, Christian Stephen | Australian Premiere
A compelling and emotional live-action documentary that brings you face-to-face with a troop of Yazidi women fighters at war with ISIS.
Curated by VR collective BADFAITH.
Find out more about Sydney Film Festival