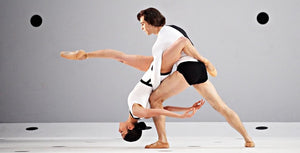 Wayne McGregor's Dyad 1929
The Australian Ballet: Wayne McGregor's
Dyad 1929
This event has passed
In 2006, Wayne McGregor set the ballet world alight when he made the ultra-stark, ultra-stretched Chroma on The Royal Ballet. Shortly afterwards, the enfant terrible completed his conquest of the establishment by becoming the company's resident choreographer.
In 2009, McGregor brought his radical vocabulary and omnivorous intellect to The Australian Ballet to make Dyad 1929, one of a pair of works that examine the period from 1909 to 1929, when Serge Diaghilev's company the Ballets Russes was remaking modern dance. 
It was also a period of full-tilt technological innovation, as is seen through two moments in Antarctic exploration: in 1909, Ernest Shackleton was the first to reach the South Pole; in 1929, Richard Evelyn Bird was the first to fly over it in a plane. 
From these complex concepts, McGregor built the stripped-back speed machine that is Dyad 1929. Sharply lit and set in a crisp background of black dots on white, the dancers seem to race Steve Reich's hurtling, Pulitzer-Prize-winning score Double Sextet to the finish line.
Artists
Choreography Wayne McGregor
Music Steve Reich 'Double Sextet'
Stage concept Wayne McGregor and Lucy Carter
Costume design Moritz Junge
Lighting design Lucy Carter reproduced by Graham Silver
With the Australian Opera and Ballet Orchestra
Conductor Nicolette Fraillon
Concertmaster Huy-Nguyen Bui
Streaming from 11 - 25 June 2020
Audiences who missed out on The Australian Ballet's scheduled performances of Volt this April will be thrilled to have another chance to see this captivating and powerful work from one of the most exciting choreographers of our time.
More resources Access the Volt production program and original cast sheet for Vanguard, which featured this production of Dyad 1929
More reading Wayne McGregor speaks body language
Presented by The Australian Ballet and the Sydney Opera House