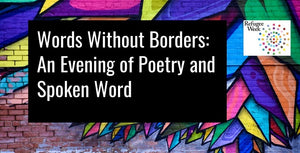 Words Without Borders
An Evening of Poetry and Spoken Word
'Poetry is like a bird,' the Russian poet Yevgeny Yevtushenko famously said. 'It ignores all frontiers.'
People whose lives have been governed by borders often find solace in the freedom of artistic expression. Join us for an evening of poetry and spoken word, performed by members of Australia's refugee communities.
Curated by Manal Younus, the celebrated Eritrean storyteller who now calls South Australia home, this special online event will showcase the talents and stories of brilliant poets from across the country. Hear from emerging and established artists, connecting from their homes to yours, as they share words of both freedom and exile.
Hosted by Younus, with Lujayn Hourani, Hani Abdile, Flora Chol and Awale Ahmed.
Watch the event on The Wheeler Centre website. 
This event is presented by The Wheeler Centre and Refugee Council of Australia.